Description
Fix it Scratch remover is a fast acting auto paint scratch removal cream. Fix it Scratch Remover is the perfect cream to remove car scratches. This car scratch remover is safe to use on any color car. Fix it is ideal for those who've always wondered exactly how to remove car dings from their vehicles. Is your car full of nicks and scratches? Try fixit and see how to repair scratches in auto paint and make them as good as new! Fixit is a genuine scratch remover that works even on stainless steel! Fix it isn't only about auto paint scratch removal. If you've ever wondered how to remove scratches from stainless steel and restore it back to its original state, fixit works! Remember, it's not just about auto paint scratch removal. See with your very eyes why fixit is an auto scratch remover that works. The microscopic polishing agents found in Fix it Scratch Remover penetrate deeply to return paint to its original shine. Fast action formula with millions of microscopic polishing agents, which penetrate the scratch & restore the paint of your car to its original shine.
Directions to Use:
It will not dry without sunlight.
Wash & Dry scratched or scuffed clear coat.
Shake Pen with Cap On it.
With tip pointed down, press & release spring tip on a surface until tip is saturated. Protect tip from sunlight!
Apply along & into damaged clear coat, wipe off excess with dry paper towel. Allow to cure in sunlight until dry (1 to 48 hours)
Replace cap after use sunlight will harden tip.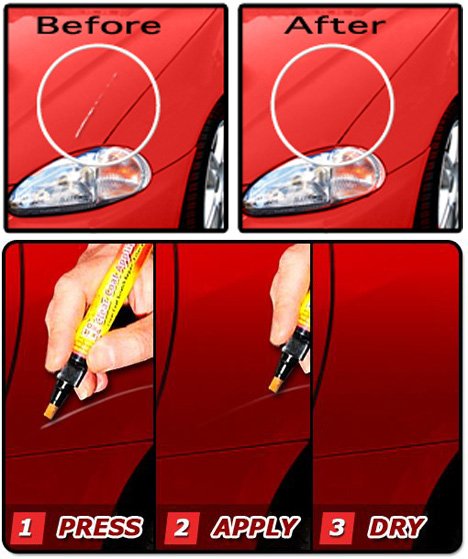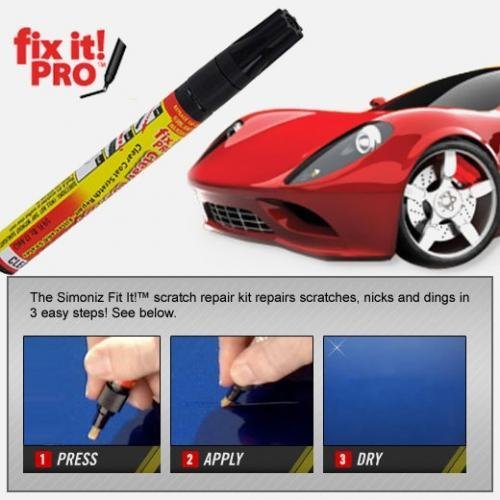 Please follow and like us: